SCHOOL VISITS ARE A GREAT WAY TO EXPERIENCE THE WANAPUM HERITAGE CENTER
All Ages Enjoy Learning about the Wanapum Culture
A vital part of our mission is to educate the next generation about the cultural significance and history of the Wanapum and the Columbia River. Our guided tours and cultural activities are a great learning experience for children of all ages.
The Wanapum Heritage Center provides tours for all grades and age ranges. We are not limited to school groups, but to any group wanting to expand their knowledge. Our aim is to provide your group with the best possible presentation. Feel free to contact us so we can explore options to make your visit relevant and tailored specifically to your group's interests or students' area of study. In most cases, we can usually provide a Wanapum speaker if requested.
For more information about visiting the Wanapum Heritage Center, please email us.
Or we'll bring the wanapum culture to you
As an alternative to a visit to the Heritage Center, our award-winning mobile Wanapum Native American Discovery Unit (WNADU) can come to your school or community event. Learn more.
Frequently Asked Questions
Can you accommodate wheelchairs?
Both the Wanapum Heritage Center and the WNADU are wheelchair accessible.
new hours starting july 1
Mon, Thur, Fri | 8:30 am - 4:30 pm
Tues, Wed | CLOSED
Sat, Sun | 9:00 am - 5:00 pm
SPECIAL EXHIBIT
July 15– Octobetr 15, 2023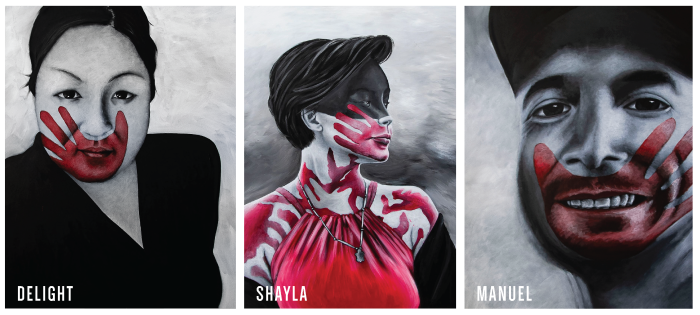 Portraits in Red: Missing & Murdered Indigenous People Painting Project
Nayana LaFond
"I want to paint them the way the spirits would see them." – Nayana LaFond
Artist's statement: I began this painting project without the intention of it becoming a project at all. I intended to make one painting as a catharsis and tribute to a domestic violence survivor and my matrilineal line.
The response to the first painting was so strong I decided to paint another. This began on May 5, 2020 when I was in quarantine and looking for something to occupy my time.
After an even larger online response to the second portrait, I decided to tell people that if they send me their images, I would paint them to raise awareness about the crisis. Within the first day I received 25 emails and private messages with images and stories. I soon figured out that I needed to paint them all. I could not say yes to some and say no to others. As of September 2022 I have completed 90 works and have a constant queue of 30 or more at a time. I paint them all for free, and I provide unlimited free prints to the families while exhibiting the originals to raise awareness. Because of so many messages and requests coming in, I declared it to be a project – the MMIWG/P Painting project began.
Each portrait is painted in black and white with red being the only visible color because spirits can only see red. Through painting these people I seek to elevate their voices, promote healing and spark discussion while contributing toward change. Each painting brings me healing from my own experiences and the experiences of my family members and I hope it brings some healing to those I paint and their families.
I also hope to raise awareness about this issue through exhibiting the work. Eventually if I do make the work available for sale I will donate to various charities including the NIWRC (National Indigenous Women's Resource Center).
Nayana LaFond is of Anishinaabe, Mi'kmaq, Abenaki, Metis, French, German and other descent and is very active in her indigenous community.
Preserving Lodge Building Traditions
UPCOMING EVENT: Archaeology Days